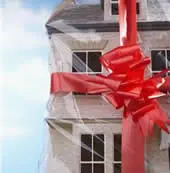 If you are selling your home, then hopefully you will have quite a few people coming to view your home. As lovely as you believe your home to be, there are some presentation tips that you can employ to make your house more appealing to buyers. Today we will go through some simple presentation tips to help you with your house sale.
1.)  The front and the entry
The old saying "first impressions count" is never as important as it is when you are selling a highly valuable and life changing purchase such as a home. For this reason, the front of your house is absolutely essential if you want to attract serious buyers. Interested buyers rarely go to the effort of booking an appointment to view the interior of a house until they have driven or walked past it and possibly even peered through the windows first. The front of your home is also the part that is most likely to be photographed and advertised: so if you are serious about selling, then get serious about the front of your home and make sure driveways are clear, gardens are manicured, and the front pathways are swept and appealing.
2.)  Personality free
One thing that really puts off prospective buyers is a home in which the previous owner's are plastered clearly over all four walls, in the form of highly personalized décor.  The more neutral you make your home, the more people you are likely to appeal to; as you are presenting buyers with a blank canvas upon which they can paint their homely imaginations and aspirations. For this reason, give your home a good once-over with neutral paint and neutral carpets and make sure it is clean and fresh smelling. This way your home will appeal to customers no matter what their age, or aspirations are.
3.)  Smell
Smells are an essential part of how human beings decide whether or not they can trust something. When something doesn't smell quite right, we are almost instantly put off by it: and this rule applies not just to food, but to people, items and rooms. For this reason, it is important that your home smells the way it should do – so sweet, baking smells in kitchens, laundry smells in washing areas and fresh smells in sitting areas and sleeping areas will all make your home significantly more appealing to buyers, than any curry, fish or other smells that your home may have collected whilst you have been living there.
4.)  Shiny surfaces, taps, drains and bins
Any shiny surface in your home (typically taps and drains) will have to gleam and shine in order to give the impression of good hygiene to anyone that is viewing your home. Because the home's plumbing system is traditionally the most significant indicator of hygiene, simple touches such as shiny surfaces around these areas will give the impression that the house is clean. A messy home can be forgiven (although of course you should avoid this for buyers) but a dirty house is unforgivable,: so shine, polish and sparkle all taps, drains and dustbins to show your buyers that they are looking at a well kept, germ free zone.
Ben loves property and currently works for Guernsey estate agents Livingroom.