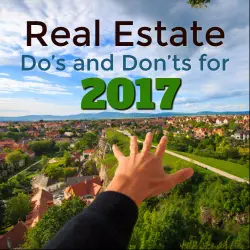 For the real estate industry, 2017 promises to be the year when agents embrace technology in a meaningful way. Real estate has remained slow to jump on board the digital revolution, despite  technological leaps forward in other industries. Paper flyers, open houses, physical paperwork all remain staples of the business of selling real estate. However, the tide is turning. More and more agents are realizing that integrating technology into their practice yields a range of benefits and increased profits. As agents look forward, there are a number of Do's and Don'ts to keep in mind that could make or break the year ahead.
Mobile Devices
In 2017, agents need to establish a strong presence on mobile. Why? Because today's buyers and sellers use their mobile devices for everything, and real estate is no exception. The National Association of Realtors (NAR) expects more millennials to buy a first home in 2017 than ever before. This is a critical demographic for real estate agents, and this demographic spends more time on mobile devices than any other generation. The NAR's Home Buyer and Seller Generational Trends Report 2015 revealed that more than half of Gen Y and Gen X buyers used a mobile device during their home search. Among those who did, 31 percent of Gen Y and 26 percent of Gen X found the home they ultimately purchased via a mobile device.
Agents can and should leverage mobile devices in multiple ways. First, a mobile responsive website is key. Agents that don't ensure their listings are as accessible and user-friendly as possible on mobile will lose valuable business. Buyers need the capacity to whip out their phones when they are out-and-about to browse new or nearby listings and look up information they need.
Real estate professionals also need to implement mobile communication tools, like SMS. Millennials would rather text than talk, and communicating with clients on their own preferred terms is essential to cultivating a relationship. Agents can even automate some of their mobile communication and follow-ups using AI-powered CRM software (but more about this later).
Self-Service
Thanks to the "Google-ification" of the world, customers today are used to pulling up information on-demand and conducting research on their own. This tendency towards self-service has changed the sales cycle because home buyers rarely show up wanting to start from square one. According to the NAR, 90 percent of home buyers search online at some point during their home buying process. People want to be active participants in the process—especially millennials. They want to control their search based on their specific parameters and easily compare their options.
It's important for agents to accommodate this shift in preferences and behavior. This means making as much information as possible online and integrating listings dynamically into a website. NAR surveys have found that 83 percent of buyers find including photos improves listings and 79 percent find detailed information about properties to be useful. Interactive maps, virtual tours, neighborhood information, and videos are necessary components of a modern real estate website. Agents can also set up property alerts for their customers so they receive the most up-to-date listings as soon as they hit the market. They can also enable customers to create and optimize their own property listing alerts, which has the added benefit of keeping agents in the know about what their clients want. These alerts can and should be optimized for mobile.
On the agent side, real estate professionals can further take advantage of the shift towards self-service by deploying digital marketing campaigns that are tied into online searches. If someone is searching for a home in an area you regularly serve, use that as an opportunity to engage.
Social Media
Social media is hardly a new phenomenon, but it's one that many real estate agents have yet to fully leverage. Today's home buyers, as well as sellers, are active on Facebook, Twitter, Instagram, Pinterest and Snapchat. Each of these platforms opens up effective ways to connect with new prospects and maintain existing relationships. 2017 is the year to invest in a compelling social media presence, if you haven't already. Get creative and develop an authentic voice. Social media is about cultivating a personality, engaging with people, and establishing yourself as a resource. Do publish neighborhood news, helpful blog posts, and striking images. Don't directly promote yourself or your service, because people are on social media to have fun, not to be sold to.
For example, Kenny Truong from ClimbSF has created a brand around being a "Fast Agent." His Facebook page and all his content is centered around this theme, and he sends out engaging and entertaining content each week to his customers. By crafting a strong, unique and compelling brand, and leveraging social media to promote it, he has become the king of real estate social media.
CRM
Traditionally, the real estate sales process has involved a lot of paperwork and mundane tasks. Customer Relationship Management (CRM) software automates significant parts of this process so agents can focus more on selling and less on nitty gritty details. CRM solutions put data at the center of sales to help agents make smarter decisions, as well as reduce the burden of grunt work, like follow-ups or sending documents. They help agents to identify leads, track their activities, and build relationships based on that information. Tracking and automation means that agents have more time and energy to dedicate to their clients. This year, be more efficient and effective by adopting a CRM system. Don't waste time doing work you don't have to.
It's not too late to set or start working on a New Year's Resolution. Succeeding in 2017 will require agents to adapt to the evolving needs of their customer base and reach prospects where they are. Following these best practices, and avoiding these missteps, will ensure your real estate business rings in the sales for years to come.