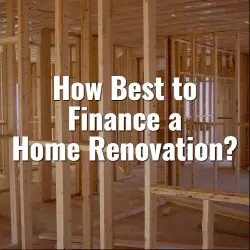 The ultimate "win" in approaching a home renovation may be engaging both a mortgage pro and a Realtor who understand both you and your renovation goals.
If you are looking to finance a home renovation, keep in mind that every property is different and that there are different loans for different levels of renovation. A mortgage pro who knows your finances inside and out can recommend the right loan.
Likewise, knowing what renovations suit the home, bring value and fit your short- and long-term plans is crucial in making the reno equation work. A Realtor who understands the type of property, area, your end goals and the renovation process also can help you make the right choices up front.
While every reno scenario varies, there are some good rules of thumb to keep in mind in terms of financing it. In general, don't put all of your cash into a property, and allow some breathing room in your budget. That way, if you go 10 percent over budget, you're not as stressed. While rates are relatively low, now may be a great time to take advantage of financing options.
And, just as the old adage "location, location, location" so often holds true in real estate, know your market when renovating. For instance, in the intown Atlanta market, it is currently a seller's market. If you're in the market to buy and renovate and re-sale a property and you're looking for a deal, be ready to buy in cash and hopefully at auction.
If you're short on cash but still want the most profit from your renovation, find a property that needs the right amount of renovations that you can live in for the minimum two-year period so that short-term capital gains don't eat up your profit.
"If you are renovating a home that's not going to be your forever home and are planning to move in, and stay less than 5 years, try to keep in mind renovation projects that will add value," says experienced real estate agent Kim Junod, of Atlanta's Dorsey Alston Realtors, who not only has advised clients about their renovations, but has completed both a minor and a major home renovation herself. "Looking at the potential return on your investment makes sense, as does keeping in mind that tastes vary, so make sure your choices will appeal to the largest pool of buyers."
Kim says that, by keeping things in perspective for resale purposes, you can focus on projects that are a bit more "evergreen" and avoid updates that won't get you as much of a return. "Surprisingly, upping the curb appeal adds tremendous value to a home and is often the last thing people think of when compiling budgets. Leave room in your budget for a new front door, garage door(s), irrigation, hardscape and landscape; focus on the exterior as much as the interior."
And always remember, to match the style of the interior to that of the exterior and keep in mind the character of the neighborhood.
Likewise, "outrageously expensive renovations will rarely payoff, especially in the eyes of an appraiser, so consider other options to achieve a similar look," she says. That loops back into your financing: You started with a budget for a reason, and the small extras really add up, so if it's something you can control (counter tops, tile choice) then stick to the budget.
She also encourages her clients to treat the home renovation process almost like a full-time job. Weekly touchpoints with your lender and contractor will help ensure you're within budget and schedule. Don't let too much time pass where you don't know what's going on with the project. Also, weekly visits to the property if you're not "living through it" is necessary. As Kim puts it, be there to make your own decisions.
"Stick with your gut, but also do your research," she adds. "It's wise to understand the pros, cons and realistic costs of renovation. We would visit open houses in the area on the weekends (at various price points) to generate ideas before our renovation. I'd make lists of floorplans and features that we did and didn't love. If it was an idea out of our budget we'd find an alternative to achieve a similar look and feel.
Kim shares some things she did in her own recent renovation that saved time, money and frustration:
Use a larger tile on bathroom floors; it makes for fewer grout lines to clean.
You'd be surprised how many old hardwood floors are salvageable and turn out beautifully. Unless they've had significant water damage, it's doesn't take much to bring them back to life.
Walk around the house like you're already living there. Turn the lights on when you enter a room to make sure the switches will be in the appropriate places. Do the same thing for electrical outlets, especially in the kitchen and bath areas.
Similarly, consider putting outlets underneath the kitchen cabinets as opposed to on the wall, which messes up the look of a beautiful back splash.
Tearing down a wall is a big deal. Not only could it be structural, but you should consider what's inside those walls – electrical, plumbing, HVAC – that make it a big deal and expensive.
Adjust a wonky floor plan. Too often people will renovate everything but at the end of the day the layout of the home is still odd; that will hurt resale, regardless of the renovation.
Her biggest takeaway for clients? "Do it right the first time; don't cut corners," Kim says. "Your future self – and potential buyers later – will thank you."
So, if you are considering a home renovation, start by engaging a mortgage pro who understands your individual circumstances, as well as your ultimate goals for the home and reno. Likewise, all the better if you can partner with a Realtor who knows the area, understands you and your goals, and has a grasp of what renovations will bring value, whether you plan to move on from the home quickly or sell it a bit further down the road.