If it says "No Soliciting or Distribution of Material of Any Kind on This Property" with print below specifically listing people who are "for sure" not exempt which includes real estate agents I expect you and the people you hire to distribute your flyers to obey the sign and not leave your fancy color printed brochures attached to  a door handle.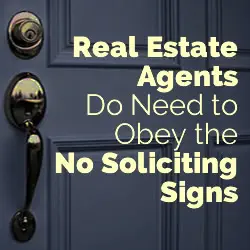 Last week I went to extreme measures and put one of the most detailed, rudely blunt, descriptive "No Soliciting or Distribution of Material" on my door. This was warranted because people ring my door constantly peddling their products or services and anytime time I open my front door, flyers and business cards are everywhere.
From people selling Bibles annoyingly hitting the doorbell over and over until I finally answer, to the guy who followed me not once, but twice into my backyard behind a gate into my organic garden pushing me to buy monthly pesticide spraying service. I have been hounded by enough peddlers and hawkers to last me a lifetime.
When I posted the rudely blunt written "No Soliciting" sign (read below), it worked like a charm.  I finally got peace and quiet, it was refreshing and a Zen week of no doorbells ringing from peddlers or hawkers. I didn't have to pick fliers left behind when I walked in and out my front door. Everyone would obey the sign except for Lisa Dunn of Realty One Group with a motto "Your Team of Professionals" and "The TRUE Area Specialist"
No Soliciting

or


Distribution of Material allowed on this property
Our baby might be sleeping or we might be on a conference call and don't need to be disrupted by you!!!!
We are tired of the solicitors.
Hawker and peddler
are not welcome!

Unless you are a neighbor or friend coming to say hi
don't bother
knocking, ringing our doorbell or leaving business cards and fliers.

Included to the people we don't want to hear from are as follows
bible thumpers, tree trimming companies, maid service peddlers, political savages, volunteers asking for donations to any organization, people selling magazine subscription, real estate agents looking for listing, anyone selling new windows, monthly services of spraying the house for pesticide, garage door repair, new roof,
If we want to buy, donate or learn about something we will do research on the net.
Disregarding this warning will warrant one or all of the following
Negative Yelp Review
Calling  the Police or a Lawyer
Writing an Article About the Matter and Publishing It
Yes Lisa Dunn probably paid a company or individual to distribute her fliers, but she should have hired someone who understood the "No Soliciting Laws ". It wasn't like the sign was hidden behind a bush, or planter, it can be seen from the street. It was posted on the door where she or her hired help left her pamphlet on my door handle. The exact type of thing I was tired of. Not only is it a pamphlet but it has a rubber band attached to it which takes two minutes of my personal time to remove and put in the garbage.
My sign and writing this article might be a bit classless to some, and be one step away from putting a scarecrow with a knife through its head and having a sign around its neck stating solicitor on our front lawn. However if you had to deal with an average of seven people ringing your door bell by 12:00noon during the week and a litany of flyers and business cards left at the door you feel the same way.
With this article I hope it raises the bar of real estate agents because ignoring No Soliciting Signs is a classless act and in California it is against the law.  Agents who ignore No Soliciting Signs such as Lisa Dunn did,  just puts a bad name on all Real Estate Agents.