Retaining clients for repeat sales is the key to success in the real estate business. We want them to remember us when it is time to sell or purchase a home and refer us to their relatives, friends and neighbors. We want to keep them happy during the sales process. We use many well-worn methods to stay front and center before our clients. We send glossy expensive collateral via snail mail, multitudes of eBlasts, gift cards, logo items or other generic gifts like crystal vases or olive oil trios. We believe that keeping our name in front of the client will  drive them to call us when they are looking to buy or sell another home, and we are right. However, yesterday's methods may not be reaching today's clients effectively.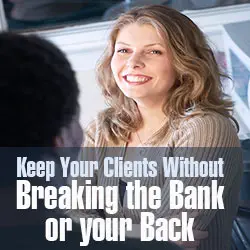 What does the client really want from you? A Recent study by Harvard Business School professors and authors of Happy Money: The Science of Smarter Spending and another in the Journal of Consumer Research (published 2-27-14) indicate that when it comes to receiving gifts, the level of happiness correlates to two simple concepts: 1. Give experiences versus tangible items, 2. Make it feasible versus desirable. In short, the studies suggest that for gifts to be most appreciated and enjoyed they ought to be experiences like a night out on the town or a visit to the spa. They also should be easy and practical to use. For example, send a simple dessert treat that can be redeemed at a local, not distant location, or a simple pedicure instead of a 3-hour consultation from a high fashion make-up artist. Expensive items are surprisingly less desirable than something that is more convenient and easy to use.
None of the research suggests anyone wants logo items, notepads with your smiling face on it, a crystal vase that YOU like, but doesn't match the client's modernist décor or an unending stream of shiny color post cards, tri-folds, calendars and brochures reminding the client of your sales prowess. Those items usually end up in the back of a sock drawer, on the closet floor or even, at a rummage sale, or in the trash. True, they may recall it after they have hired another realtor and are packing to move to their new home.
It is imperative to reach and meet clients where they are in this highly and mobile world using the same technology they use every day and in the very community in which they live. Imagine being able to see in real time when your client redeems their dinner for two at that adorable bistro just down the street. Would you send them a quick text to see if they liked it? Or better yet, would you like to get an instant 'Thank You' note from them as they are enjoying that glass of wine? Are they reminded of you and how much they love their new home and community every time they visit that local bistro? Probably. A new Silicon Valley company called Yiftee is helping real estate professionals meet their clients where they are. Yiftee gifts are sent to a client's smart phone via text or email instantly. The gift sender chooses from thousands of local shops, restaurants, cafes, boutiques, services and spas. The client is reminded weekly of the gift and who sent it. If the gift is not redeemed after 90 days, the gift value is returned to the sender's account for future use. Sock drawers and closets do not return the gift value if they are unused. They also don't tell you if and when an item is being enjoyed. Successful gifts prompt real experiences, real interactions and real memories.
Reminding your clients of the fabulous service you provided them with gifts they want, where and how they want to receive them is the surest way to insure your client will call you again, and talk fondly about you with their family, friends and neighbors. This is not meant to imply marketing collateral has become extinct. Sending well-timed and useful communications is still an effective marketing tool. It's the wasted shopping, wrapping, lugging, and delivering of bulky gifts, and mailing reems of notecards, stacks of plastic gift cards and piles of calendars that is becoming a thing of the past.
Today's successful real estate professionals send the gifts that their clients want. Being creative in the way you meet your clients needs and supporting the local community is the key to continued success in the 21st century.