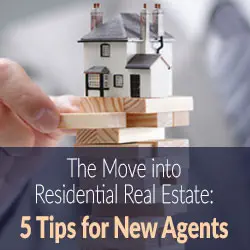 The transition from being a cog in the education, corporate or government machine to an independent agent living 100% off commission is a drastic one. I experienced a lot of growing pains in transitioning into the world of real estate. Here is some advice for green agents trying to keep their heads above water in the fast-paced real estate industry.
1. You learn before you earn, so pick great teachers and learn fast
Come into the job with your eyes open. You can potentially make a lot of money relatively quickly but until that first sale closes, you are living off savings or the good grace of others. Don't expect a pay check during your training period.
Find a firm who will pair you with a good mentor, team or program to get you started. Pair up with a seasoned agent and offer him or her a split in the commission. Your first few contracts are about learning and not earning so make sure to ask your new partner or broker every possible question and write down the answers for future reference. Find people who are busy in the office and ask to help. Go to every meeting and training and talk to someone new. A lot of agents would love a helping hand for a small fee and you need both the experience and any dollar you can get.
2. Look into groups or teams
Who is going to be your first, second and third client? If you don't have an answer, find people who know who their next 10 are. Teams are the natural expansion a good agent takes after reaching the point where he or she has more business than they can handle. With a good team you will jump in as an administrative assistant, be in charge of coffee runs, be an agent and handle various transactional duties the team leader presents to you. Observe the inner workings of a successful business and team and soak what you learn in like a sponge. The more you know, the faster you'll move up within the group and eventually adapt these systems into your own program. Learn from the best and you will save a lot of time you may otherwise waste.
3. Treat those first few clients like royalty
Find out what is important to your clients in their home search and in their lives. Then visit every listed residence that looks like it might fit and take videos and pictures for them. Do this faster and better than any other agent could; what you lack in experience, make up in delivery and quality. Sit down with your client and review the options and identify the pros and cons of each. Then take them on a tour of the selected properties and bring with you all the items you discussed in advance so you can check off the wants. These first few clients will likely love you for the effort and recommend you to friends and family.
4. Chase every lead but be prepared those leads can fall through
Can you tell if someone is sincere? I would have answered "yes" before I started in real estate but quickly learned that isn't the case after taking more than one client on their sixth home tour. You want to help everyone but can only guide those who are serious about buying or renting to the finish line. The process should start broad and then narrow down to the home that best fits, but if your clients waiver, expand areas of the home search, talk about completely new home types or discuss the realities of their wish list v. their budget. Be upfront about the value of your time, make sure your clients get pre-approved and have decent credit and politely decline business if they look to be dragging their feet.
5. Don't sell a price, sell a process
On your first few listing appointments you'll be as nervous as you were at your third grade poem recital. Relax, prepare with your mentor and anticipate a few specific questions like:
How much do you think we can get for our house? How fast will it sell?
These questions are inevitable landmines and inseparably linked. Do not promise a price or a timeframe. However, do promise a system to maximize the former and minimize the latter. Have a set plan based off recent movements in the market, taking into account different pricing strategies, your clients' needs and then list a few options before making a firm recommendation. If you promise them the world they will hire you, hold you too it and then fire you when you cannot deliver. Explaining your marketing strategy and weekly report system should be the bulk of your conversation, not price.