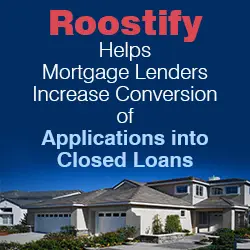 Roostify is a web and mobile service designed to enhance home financing, making it easier for buyers and lenders to navigate the frustrating and time-consuming process to apply for and close a mortgage. Developed by technology, real estate, and mortgage banking experts, Roostify's secure interface allows borrowers to easily apply for a mortgage and all parties involved to share and track information, documents, and transactions seamlessly — leading to a faster, smoother mortgage closing.
Roostify provides step-by-step guidance in the home and loan closing process, including loan application completion, qualification document submission, and tracking of the loan closing. Borrowers will always know where they stand in the process and what comes next, eliminating potential roadblocks along the way. Lenders get to settlement faster, and receive far fewer unnecessary phone calls and emails. Real estate agents get the benefit of a smoother, quicker process that streamlines the transaction, eliminates time and increases potential referrals from satisfied clients.
Roostify can:
•             Process a full mortgage application in 10 minutes
•             Process a full loan package (mortgage application plus documentation) in 20 minutes
Benefits to the Homebuyer
For the homebuyer, Roostify works a bit like TurboTax for a mortgage application. It customizes fields on the application based on the user's answers to previous questions. Once the loan application is submitted, the borrower's dashboard walks the prospective homebuyer through the remaining process.
All documents are held on the Roostify platform in a secure repository, which eliminates the need for the lender to download the documents. Additionally, its esignature capabilities eliminate the need for printing and faxing documents.
To assist with the underwriting process, borrowers can connect their external accounts directly within the Roositfy platform. The borrower can give lenders access to bank accounts, retirement accounts, and savings accounts without ever leaving Roostify.
As easily as a borrower can shop online for a mortgage product, they will be able to complete the mortgage process.
Benefits to the Lender
Roostify benefits the lender by giving them complete visibility into the process. Even after the home loan application process is complete, the system details the home closing workflow, notifying the two parties what items need to be completed by what time frame.
Roostify can be white labeled to create a branded solution that gives their borrowers an end-to-end service that consumers have come to expect. This will not only allow them to process more loans, faster, but also provides a competitive advantage by providing enhanced customer service and a smoother transaction from start to finish for the borrower. Having the ability to more accurately process loans increases ROI and cuts down on time spent manually completing paperwork.
Case Study: American Capital Corporation
American Capital Corporation (ACC) was founded in 1994 and is now one of the largest background information on the user independent mortgage bankers/brokers in California. American Capital and ACC Wholesale support over 1000 loan originators and an annual funded loan volume in excess of $1 billion. The company has over 200 Retail Loan Officers and over 100 broker relationships.
Like many lenders, American Capital Corporation relies on a complicated series of forms and data to process applications for home loans. Traditionally, this has been a manual process that has involved numerous back-and-forth interactions between loan officers, real estate agents and prospective homebuyers not only to prepare the loan, but to track it throughout the review and approval process. The company needed a better way to manage this complicated and time-consuming workflow. ACC turned to Roostify's web-based tool, which is designed specifically for the real estate industry, to automate and streamline the process.
After adopting Roostify into his workflow, ACC Loan Officer Travis Kniffen found that everyone took to it quite easily but one group in particular was a perfect fit. "There is a lot of talk about how important first-time homebuyers are to the health of the housing market, of homebuyers and Roostify helps them tremendously. Not only is this a generation that is comfortable working with online software, they expect it – there are very few other products that deliver this comprehensive a service." He adds that first-time homebuyers usually have a learning curve with all the paper-based procedural channels they have to work through and that sense of being overwhelmed can be something that lowers their likelihood of buying sooner rather than later. Roostify helps get the first timers off of the fence and onto the property ladder.
Real estate agents also benefit both directly and indirectly from using Roostify. Not only does it speed up the process and cut down on the amount of paper chasing they have to do, it leaves the client much happier because homebuyers can check the status of their applications at any time. Kniffen says, "Because agents rely so much on referrals as well as repeat customers, they welcome anything that increases their client's satisfaction. Roostify makes homebuyers much more at ease with the process than if they had to do things the old fashioned way. This, in turn, leads to real estate agents who love using Roostify."
Kniffen adds that Roostify is one of the few products in the real estate space that does not have a vested interest in the negotiations. "One of the best things about Roostify is that they are a neutral party and act simply as a central location for all the groups involved to keep things on track. There's no worry that we're introducing an extra stakeholder into the process who wants to tilt things in the favor of one particular party." Additionally, since Roostify was founded by three technologists, including the prior Chief Technology Officer at Google, the system is designed to be secure from the ground up. "There isn't the worry that someone is going to leave sensitive documents in places where others can see them. With this platform only the people who are supposed to have access to the paperwork are the ones that do," said Kniffen.