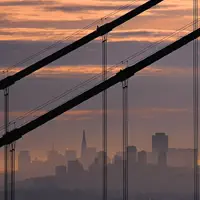 Despite moderately strong sales and median home prices continuing to rise, San Francisco Bay Area Residential Real Estate Inventory rose for the 4th straight month in April and has now seen a cumulative increase of 75% since the beginning of the year.
A total of 7,263 new and resale houses and condos sold in the 9-county San Francisco Bay Area in March. That was up 34.4% from 5,404 the previous month, but "down" 6% from 7,723 in March/2012.  It's normal for sales to jump between February and March, with that gain averaging 39.5% since 1988. March sales have ranged from a low of 4,898 in 2008 to a high of 12,645 in 2004. This past March's sales were actually 17.1%  "lower" than the March average of 8,758.
In March, the median price paid for a San Francisco Bay Area home was $436,000, which was up 7.7% from February and up 21.8% from March of 2012.  The median price has risen on a year-over-year basis for 12 consecutive months, with double-digit year-over-year gains the last 10 months and increases above 20% for the past five months.  Still, the March avg. price was 34.4% lower than the $665,000 peak in June and July of 2007. In March/2009 the median hit its post-peak low of $290,000. That dip was an extremely low level for the San Francisco Bay Area, reflecting both widespread price declines as well as robust sales of heavily discounted inland foreclosures at a time when high-end sales were all but dormant.
Well over half of the 21.8% year-over-year increase in March's median sale price reflects rising home prices. As most people know, prices have risen as a result of record-low interest rates and growing demand meeting an exceptionally low supply of homes for sale. However, a portion of the March/2013 median's year-over-year gain has also been due to a change in market mix. Sales of low-cost distress homes have fallen sharply, while sales of pricier move-up homes have shot up.
Higher sales in the middle and top of the housing market reflect improved consumer confidence, ultra-low mortgage rates, and the unleashing of more pent-up demand than many anticipated. There's been a shift in psychology, where more people worry that prices will rise and fewer fear a decline. This has drawn a lot of folks off the fence following a long stretch of sub-par sales (in the late 2000's), especially in the higher price ranges. In the more affordable markets, there has been a big drop in foreclosures, which limits the supply of homes for sale.
Foreclosure resales accounted for just 10.7% of San Francisco Bay Area resales in March, down from 14% in February, and down from 25.5% a year ago. March's level was the lowest since foreclosure resales were 10.1% of the resale market in November/2007. Foreclosure resales peaked at 52% in February 2009. The monthly average over the past 18 years is 10.2% .  Even short sales are now on the decline. Short sales made up an estimated 19% of San Francisco Bay Area resales in March. That was down from an estimated 20.5% in February and down from 23.8% a year earlier.
Some San Francisco Bay Area homeowners are still under water with their homes. As prices rise, more homeowners are likely to put their homes on the market.  This pent-up demand among potential sellers will motivate many to move as soon as it makes sense.  Inventory is already on the rise.  A 75% jump in inventory since the beginning of this year has put us back to the inventory level we were at in October, although that is still a relatively (very) low level of inventory.  We will need a more substantial jump in inventory to moderate the currently surging San Francisco Bay Area home price growth, especially with the prevailing record-low interest rates that we have.  However, if inventory does continue to rise and mortgage rates also begin to rise, the upswing in San Francisco Bay Area home values is likely to slow down significantly.