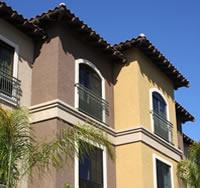 Buying a home through a shared-ownership scheme has, in recent years, been a popular way for first-time buyers to get themselves on the property ladder.  But, does it sound too good to be true and what exactly does it mean for those who sign themselves up for it?
The good life
It's not hard to see why a shared home-ownership scheme might be appealing.  You get to buy half of a property, with a housing association buying the other half, which you rent, having the option of buying further shares in it.  It means you can buy a property that you probably wouldn't be able to normally afford, and your combined rent and mortgage repayment may be less than if you'd bought the house outright.  You won't need a hefty deposit, and most properties under the scheme are usually newly built or recently refurbished.
With first-time buyers being edged out of the property market and mortgage lending subject to strict regulations, the scheme sounds like a perfect solution.  But, is it?
Location, location, location
If you've got your heart set on a particular location, then you may be in for a big disappointment if there are no properties available for shared ownership in that area.  There is, generally, a limited choice – and not everyone qualifies for the scheme.  Different locations might have different restrictions when it comes to sell, should you decide to, so be aware of these. If you live in a remote area, you may struggle to sell under this scheme.
Negative equity
With house prices tumbling in recent years, some shared-owners have found themselves in negative equity, with the money owed on the mortgage more than the value of the property.  Many have also been subject to inflated rents and costs associated with repairs and maintenance to communal areas, making it almost impossible to go on and buy further shares in the property.  For those shared-owners looking to sell their property, they may find that they are locked in an inflexible contract, and don't even have the option to rent it out.
Read the small print
Many shared-owners have stumbled across problems because they either didn't read the small print in the contract, or terms and conditions were ambiguous, and associated fees and charges unclear.  Often, under certain conditions of this scheme any upgrades or work required has to be done by housing association approved suppliers, which can prove costly.  If you want to increase your share in the property, then this too will be subject to steep legal costs and valuation fees.
Permission to DIY
Under the shared-ownership scheme, if you don't fully own the property, then you may have to ask permission from the housing association, if you want to do any home improvements or redecoration.  So, even if you want to add some new internal oak doors, replace a window or paint a room red, you need to get the go-ahead first, in case you devalue the property in any way.  Whilst you'll incur the cost of any home improvements or alterations, any resulting increases in value will have to be shared.
Whilst buying a home through a shared-ownership scheme does appear to offer a solution to struggling first-time buyers, it does need to be considered carefully in order to avoid any pitfalls.
This article was written by James Harper on behalf of UK Oak Doors, retailers of internal oak doors as well as ledge and brace doors. Visit their site to see their range of internal oak doors or ledge and brace doors.