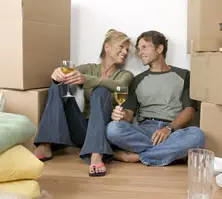 Next to death and divorce moving house is one of life's most stressful experiences but it doesn't have to be. With the right preparation you can have a smooth house move and minimise the stress. Here are some tips on making your move a success.
Preparing for the move
Like most things, a successful house move starts with preparation. If you're living in a house with a loft or a basement your first step is to get everything onto one level. That's because it all has to go through the front door and it will make the process easier if you don't have to negotiate stairs on moving day. Of course, this will temporarily reduce the amount of living space you have. However, you can stack boxes in a room that you don't need to use every day. For example, you could spend the week before the move eating in the kitchen and use the dining room as a temporary storage facility.
Clearing up
As part of the moving process, take the chance to clear out anything you really don't need. And here's a clue: if there's something that still boxed up from your last house move you can probably do without it. It's a good opportunity to get rid of unused items (and to "lose" unwanted gifts). Just remember to keep your true feelings under wraps when you're telling the giver about the loss.
Packing choices
When it comes to packing up for the move you have the choice of letting your moving company do it or doing it yourself. If you choose the latter, then make sure to pack your stuff in boxes that you can carry easily. It often seems like a good idea to use large boxes but when you get to your destination and you have to carry them from room to room you will find it easier to move something smaller. Choose sturdy boxes like paper boxes, book boxes and nappy boxes. Alternatively, get boxes of the size you need from your removals company.
Wrap it up
If you are doing your own packing then bubble wrap is essential – and not for the fun of popping bubbles, either! It's the best way to make sure that all your belongings are protected while you move. It's not just fragile items that need to be protected. You should even wrap items like mattresses – once they have dropped in the dirt you will never get the stain out!
Finally, make sure that you label all packing boxes so you can find items on arrival. A good system is to include both where the original items were and where you intend them to go. That helps cut down on the "I'm sure I packed this" syndrome at your destination and reduces the stress at the other end.
Joel writes for Removal Services Scotland, removals Edinburgh specialists who can help with your next move.