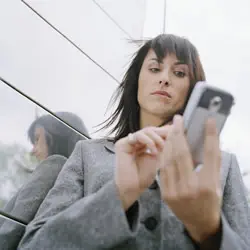 Flash back just five years in Modern America in the field where I've been entrenched, and you'd see an entirely different landscape for the home real estate business. Listings agents often occupied calm and cavernous offices, waiting for land-line phones to ring with inbound requests to pencil themselves in on agents' calendars for appointments. Prospective home buyers strolled or trolled through neighborhoods to jot down details from physical yard signs for properties on the market ("Slow the car down, honey, let me get the details on this house!") Heck, many real estate agents were still stocking handfuls of print brochures into plexiglass cases staked curbside, likely annoying neighbors with wind-blown debris and providing paper airplane materials for local children. That whole method of connecting sellers and buyers now seems a bit antiquated in a world that has gravitated full-throttle to the smartphone.
A current snapshot shows unlimited marketing possibilities for professionals in real estate, or any industry for that matter, operating in today's real-time information economy. Fields as diverse as pharmaceuticals, retail, repair, financial planning and virtually any kind of sales can take a page out of what real estate agents are doing to get even closer to their prospective customers. Let's explore three possible personas present in any mobile workforce and how they can harness technologies to meet their customers' needs and help close critical deals.
Getting Inside the Marketing Mindset
In most organizations, your high performance marketers are aggressively searching for effective tools that will help them promote their products and services. This marketing-centric persona is often a characteristic of the "seller's agent" in real estate.
It's currently a seller's market in the U.S. real estate industry because there's actually a shortage of properties in key geographies around the nation. It's more dramatic in some places, of course, but we're finding the inventory in many cities is scarcely a one month supply of properties. For the marketing-driven agent, it's all about mastering advertising, social media buzz and technology.
The savvy marketers in our field get down to business and wield tools with a single-minded purpose of making an optimal sale.           Mobile technology can leverage the power of real-time, when a customer is literally in the mindset of purchase consideration. In our field, it's the ability to text when you see a house you like and summon a live listings agent like a genie in a bottle who appears to show you around.
Deft marketers are taking a page out of the "Dollar Shave Club" mentality, making strong use of crisp and compelling content that can be enjoyed and shared via the smartphone. It doesn't even have to be extremely polished, just ultra-real-time and informative, provocative or funny. A few years back, people could only look at grainy pictures on a flyer; now they can instantly view and share hundreds of high-definition images while at the same time initiating communications with a marketing pro.
Ultimately ask yourselves: At the time when someone is interested in buying something from you, are you giving them every chance to work with you? Summoning mobile, text and multimedia can give you the air cover you need to truly maximize the value for your client.
Connecting the Consultative Seller
There's another type of salesperson in most any organization: it's the smart and connected individual whose currency is his or her deep knowledge of the environment, of all scenarios and of hunches and inside tracks that very few others know. In our field this is often what we call the consultative seller who is extraordinarily dialed in to a local community and attuned to the nuances that maximize property value.
This person takes on a consultant's role teaching homeowners the tips to showcase their house for a winning transaction – whether it's suggesting less furniture, advising that those hedges need to be trimmed back to properly showcase the home or recommending those neutral colors that are going to make prospects use their imaginations to envision themselves living there. This consultant knows that if they undervalue the inventory and fail to maximize the value of the house, others will flip it and get tens of thousands of dollars that could have been pocketed by their client at the time of sale.
If you have a consultative seller in your midst, by all means nurture them and furnish them with any information that will fuel their curiosity and enhance their knowledge.  This individual in the real estate industry is the person who navigates a prospect through the eccentricities of a neighborhood, knows the ins and outs of infrastructure, predicts the upsides or perils of local politics, guides parents about the buzz on different school systems and suggests zipcodes where up-and-coming residents are flocking.
There's no knowledge more valuable than finding out who wants your products right now. In our field, this capability provides the consultative seller a priceless opportunity to use his or her knowledge to maximize value for their clients.
Providing Opportunities for the Relationship Builder
Our final persona never met a stranger. These professionals have otherworldly levels of empathy and bond quickly. Once introduced to any potential client, they rapidly become a trusted resource.
This person is the classic "relationship builder." Rather than relying on assertiveness, tech-savvy or other "sales" skills, their ability to create human connections helps them become a soothing guide through a stressful home transaction process. The thing is, they still have to be connected with the buyer before any of that can happen.
We give this person significant motivational material and messages to make the most of their customer service potential. We will encourage them to execute the tasks and functions of their jobs in a way that couldn't be done better by a different person.
The extra layer of behind-the-scenes technology we can use to bolster this person's success rate will be anything that offers ease and convenience. It's hard to pass up a note – a text in this case — that says somebody is interested in your product right now. Even someone who is best in classic relationship mode can use that information to initiate their process.
Technology Can Bolster the Mobile Workforce
Ultimately great mobile workforces are increasingly getting out from behind that desk and desktop and meeting prospects where they live, work and play. Mobile technology accelerates customer service and allows every type of seller in your organization to perform at their peak. Summoning the power of text and the new ways people are communicating will save people time (and even gasoline!) by delivering information when, where and how people want it. It's a wonder more salespeople aren't getting on the bandwagon!
Providing "above and beyond" customer service means aligning offerings to client needs, delighting those customers and providing service that really matters. Great technology enhances sales acumen of all types.