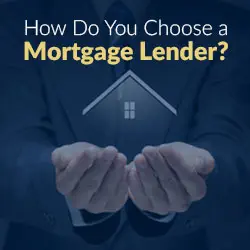 When considering buying a home, I've found that many folks go about it backward. They fall in love with a house, online or off, often getting excited about certain properties and neighborhoods right off the bat. This can be frustrating and disappointing if they find out that they are not really in their price range, or aren't quite ready to buy or sell. Thus, right up there with choosing a real estate professional is choosing a good lending pro.
I asked home-buying pros from the other side of the table this question so you can benefit from the perspectives of both a veteran Realtor and a young real estate pro.
"Choosing your mortgage lender is one of the most important decisions you will face in the real estate process," says Amanda Johnston, with Century 21 Select Properties. "A lender can make or break the deal. You need to be able to trust your lender completely."
You may already have a lead on a lender, or you may have to turn to research and referrals.
"If you don't have previous experience with someone, ask your Realtor or other people you trust for recommendations," says Brenda Mills, also with Century 21 Select Properties, and who happens to be Johnston's mother. "Your Realtor can recommend multiple lenders with whom they have had good experience; in fact, they are obligated to tell you about more than one."
I would add that, in addition to your real estate pro, ask appraisers and closing attorneys and the like. Other pros likely have a go-to list of lenders. It's important that whomever has recommended a loan officer has had good professional experience with them.
"There are a plethora of options in the lending industry, from mortgage companies, banks or credit unions to private lending sources," Mills says. "Each of these vary with specific programs and areas of emphasis, and vary in terms of service model."
Items to inquire about: Qualification requirements, points, fees and those lock-in time periods. You should be provided with Truth-in-Lending statements and Good Faith Estimates would also be helpful to further establish your bottom line. Always look for the bottom line. That is, what is in all the details that will benefit you, the buyer? Once you think you have identified the lender who is right for you, meet them for a face-to-face interview to be sure that your expectations are in line and communication is easy.
"In that search for lenders, there are three criteria that I think need to be considered: accessibility, timeliness in response and specific knowledge base," Johnston says. "Look for a mortgage pro that will serve you in the time that suits you and who provide direct contact information. When you contact them, they should respond in a reasonable time period. In real estate transactions, time is of the essence. Do not be intimidated to ask about their knowledge. Check out company websites. Listen for how they set expectations."
At a minimum, you'll want the loan officer to pre-qualify you so you know how much you can actually afford. Don't go by any standard rules of thumb you may read about. "Every person's situation is different and needs to be evaluated individually," Mills says. "It doesn't mean you need to spend as much as you can qualify for, but it will at least give you parameters."
Many lenders today are also offering pre-approval – themselves or through their investors. That goes beyond pre-qualification and means you go through the underwriting process before you've even found a home. That way, once you find the right home, you will be ready to go and your loan will be contingent only on the appraisal of the property you choose. According to Johnston, "this makes you a much stronger buyer in the eyes of a seller, especially in competitive markets or neighborhoods."
Mills sums up the goal of your search well. "The three of us: client, Realtor and lender should be able to walk through the real estate transaction with a winning result for all parties."