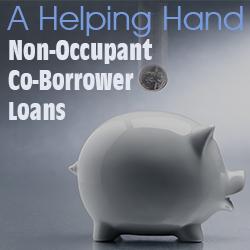 There are several ways in which someone can help a child, parent or sibling obtain a home. In general, this type of mortgage is called a non-occupant co-borrower loan. All primary residence loan programs allow you to gift down payment funds; however, your income and assets will only be considered if you are a non-occupant co-borrower on the mortgage.
There are four programs that allow for non-occupant co-borrowers – VA, Fannie Mae, FHA and Freddie Mac. There are substantial differences in the programs.
To obtain a VA loan, the occupying borrower will have to be an eligible veteran. The VA does not specifically prohibit non-occupying co-borrowers; however, the VA requires that such a loan be sent to them for prior approval. Although both incomes can be used to qualify for the loan, the borrower's (veteran's) income must be adequate to repay his/her portion of the loan. Also, the VA guaranty covers only the veteran's portion of the loan. Most if not all VA lenders will not issue a loan without a complete guaranty. Thus, the VA option is not realistic.
Fannie Mae allows only the assets on the non-occupant co-borrower to be considered; these assets may be used to meet down payment and reserve requirements. The co-borrower's income cannot be used for income qualification purposes. This means that the occupant borrower must qualify based on their income only. Since you can gift all of the down payment funds, there is little reason to be a non-occupant co-borrower on a Fannie Mae loan.
With an FHA loan, you can gift the down payment funds to a relative and, under certain circumstances, other individuals. Also, the FHA guidelines allow the non-occupant co-borrower's income to be used for income qualification. However, the occupant borrower is expected to have adequate income in excess of liabilities to significantly contribute to the monthly mortgage payment. Typically, the borrower's income will only be counted if they have a history of income and at least one to two months at their present job.
For example, consider a fulltime college student who does not work when school is in session but has worked fulltime during the past three summers. This income will not count because it does not continue throughout the year.
Thus, FHA loans may not work in all cases; e.g., purchasing a condo, townhouse or house for your child who is a fulltime college student or is seeking or just started employment. Even with a 20 percent down payment, borrower-paid monthly mortgage insurance will be required for the life of an FHA loan.
The Freddie Mac program is the most liberal in terms of considering the non-occupant co-borrower's assets and income. The co-borrower's assets and income can be fully utilized and can solely support the down payment, reserves, and income requirements. Hence, the occupant borrower does not need to contribute to the down payment, reserves or monthly housing liability (principal and interest, property taxes, homeowners insurance, and homeowners' association dues). Keep in mind that the borrower's liabilities and income will be counted in the overall debt-to-income calculation. So, if the borrower has no income, the non-occupant co-borrower's income must to be sufficient to income-qualify based on the total liabilities of the borrower and co-borrower.
It is important to note that the occupant borrower must credit-qualify for the various programs. That means that the borrower must have the minimum number of credit lines and credit score required for the selected program. A pricing credit score of less than 620 will eliminate the Fannie Mae and Freddie Mac programs from consideration.