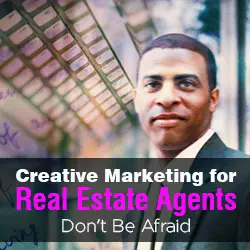 Real estate agents are masters at multi-tasking. From negotiating and easing client's nerves, to home staging, they do it all. However, among all of their abilities most avoid the greatest opportunity to help increase business – a personal marketing strategy. Hosting a marketing campaign is a confusing concept for many and is an area of contention for most.  If you were to ask an agent to talk about their marketing they may either begin to look like a deer in headlights or vaguely refer to their flyers. It's actually fairly rare to meet an agent with a solid marketing plan in place that they established themselves. Although the amount of real estate marketing tools available means this shouldn't be the case.
So, why has this critical element of building a real estate business been ignored? First and foremost, agents don't have time to make a solid plan.  Between listing appointments, open houses, and frantic sellers who don't understand why they need to take their shot gun collection down before their home goes on the market, agents are go, go, go – all the time. Therefore it's not surprising that for most, the thought of sitting down at the computer for hours to design postcards and listing announcements spurs an overwhelming feeling of anxiety. Fortunately, not having enough time to make a marketing plan is the easiest obstacle to overcome. Hiring a business like Ideaplunk to handle everything from brainstorming to vendor relations eliminates any reason to side-step this business building gold mine.
The second reason agents go without a marketing plan is due to the fact that most don't know what a real estate marketing plan is. For every agent intentionally putting marketing on the backburner there may be two who are unaware they are even missing the opportunity. Real estate marketing, by definition, includes anything and everything that brings an agent closer to new client interactions. Whether it's as small as a logo and thank you card template or as large as a fully functional website with personalized messaging and marketing collateral it all falls under real estate marketing. If you're an agent this may be the time you start feeling anxious again. How do you know what kind of marketing materials you need? Should your marketing collateral be as simple as a keychain or as extravagant as personalized client throw-blankets for the holidays? Businesses like Ideaplunk serve to help navigate through the many options available to agents. They take agent's clients into consideration and help determine what type of materials will best serve business growth and retention, and they do it on a personalized level.
Since every real estate agent is essentially an individual contractor their messaging and materials need to be as unique as themselves. Building a marketing plan that not only grabs attention but also sets an agent apart from the thousands of others in their area and is key to a thriving reputation and business. Marketing is such an essential component of a real estate professional's career that Zillow recommends the average real estate agent spend close to 60 percent of time on marketing, 30 percent improving services and just 10 percent managing business. However, with a partner leading the way to a solid and sustainable marketing plan with personalized collateral 90 percent of an agent's time can be spent networking, serving their client base and pursuing potential leads.
Ideaplunk works with real estate agents to answer all of their questions and turns their ideas into a fully built-out marketing plan. They hear an agent's end goal and find marketing collateral to match their personality and client base to create a solid reputation. Working with a business like Ideaplunk takes the confusion out of vendor coordination while securing the best prices and materials for collateral. This service goes beyond paid leads or advertising and instead provides an individual brand for agents with personalized messaging and a trusted partner through all business growth.