My good friend, and for the purpose of this article I will call her Gina, is renovating.
Got your attention yet ?
No, I will admit I was far from excited to wander over into a mess of a home renovation project that consumes practically every homeowner, inclusive of varying conditions ranging from temporary disorganization of belongings strewn about their home, furniture draped in drop cloths, dust coating every corner of every room, unpredictable conduct from tradesmen and their helper – and perhaps I'll just stop here.  But, she is a friend and I put aside my need to write the next article here and earn a living, and visit her to console her in her frustration, unrealistic expectations and overly ambitious deadline to complete this renovation.
On her kitchen table I saw a set of architectural drawings that were perhaps not a stereotypical presentation of what you might expect for Architects renderings.  Not laid out in a large format like 24" x 36" but more so in a ledger format ( 11"x17").   In picking them up I quickly realized these were "shop drawings" for her kitchen, mantle, stairway and other millwork related items throughout the project.
I saw her signature on the bottom left, and upon her noticing my snooping she quickly pointed out
 – " Last week, I would have not had a clue about how to read those, but the cabinet manufacturer sent them to our General Contractor, and we've spent a few hour going over them – so we made some changes and we are giving them back to the cabinet manufacturer so they can start".
This was the catalyst into penning this for you.
"Shop Drawings" are they the new "Contract Document"?
Varying construction trades utilize a process of submitting and reviewing "shop drawings".   Mechanical, Millwork, Electrical, Glazing, Structural and Metal fabrication trades are the most common, but the term and process most certainly applies to other construction trades.
Since it was Gina's woodworking trade that caught my attention on this subject – I researched people and companies in that industry that create or produce these drawings for assistance.  One of these companies is Zdraft.com
Zdraft.com is an online outsource company that generates shop drawings for millwork and cabinet shops from Vancouver BC (Canada) – to Miami Florida.  There is no question that with the volume of drawings they generate for their hundreds of woodwork customers across North America – these people know the value of shop drawings as a contract document.   Managing Principal Gus Magas was more than happy to assist us and provided a plethora of information and resources.
Gus outlines the process best in these statements
"Years ago, my father would sketch out a rough layout of a kitchen, write out a crude outline of the work, then go back to the shop and make the items himself,  from ordering the material to cutting the pieces, to overseeing their assembly, to delivering and installing a finished product.  That left a world of ambiguous decisions unaddressed that were unavoidable unless you had an attorney involved and wrote out iron clad contracts.
I instill this into all of our drafts people today, and point out that our job is to prepare Drawing Projects  that inform the consumer and protect the manufacturer and General Contractors from misunderstandings, confusions and avoidable problems".  
Another important statement that stood out was
" Good and practical drafts people need to have great construction and manufacturing skills, they need to have excellent knowledge of local code compliance and engineering principals, and they MUST have an above average comprehension of the legal obligations ( between the manufacturer and their client) within the drawings they present.  We foster an expectation with all of our in-house drafts people for continuing ones education within our field,  especially in the technical aspect, but also encourage educating themselves in legal principals, terminologies and expectations as it pertains to their work.  This is most important and highlighted for all of our Project Managers"
He also broke down the process in this list of criteria
A.  Architectural Detail enhancement

Typical Architectural and Interior Design drawings are reflective only to the outward appearance and concept of the project.  In terms of Millwork, they rarely factor in fabrication or even structural engineering. Relate this to the Mechanical & Plumbing sector and the Architectural renderings often neglect their needs completely, showing ceilings that don't reflect spacing needs and walls that don't meet piping requirements.
The Drafter taking on the shop drawings needs to add the details required to build and clarify the project so that it goes from concept to reality.
( Image 01-BA) Image below compares the Architects intent , with the  Shop Drawing prepared for review.  Note the spacing and dimension clarification. Critical for coordinating equipment and other trades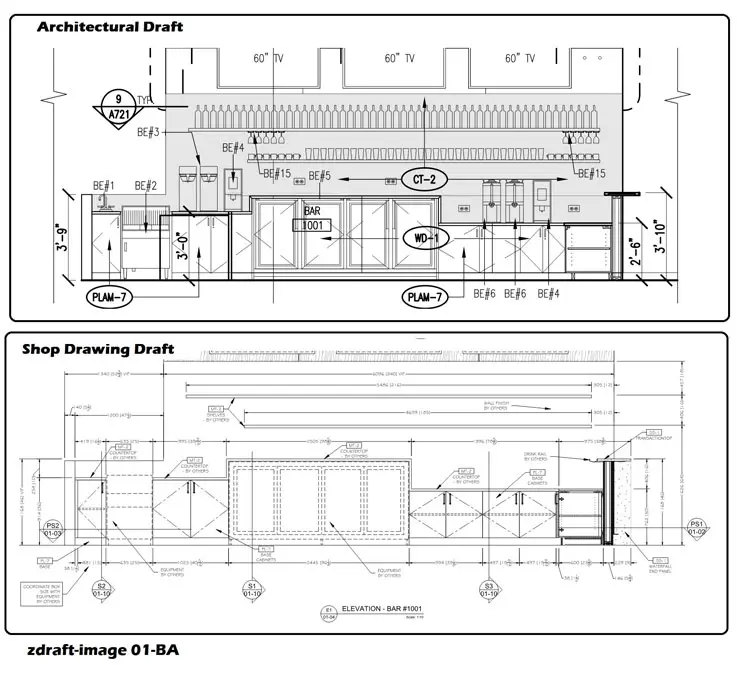 B. Construction Clarification
Build methodology: Every shop has a unique method of fabricating. It relates to their size ,equipment, manpower, and resources and experience. Practically every successful business is in constant state of evolution and they each vary in that state of evolution.You can have shops that don't utilize CNC technology, while others are using advanced programming tools within their fabrication process.  This leads to dozens of ways a simple cabinet can be manufactured.The Shop Drawings should capture the fabricators building methodology and enables their clients to accept it as such.
Material use: Proper specification of hardware and material schedule alleviates about 80% of the common problems between what the client wants and what the client gets.  Detailing hardware in its exacting terminology and specification from their manufacturers , as well as identifying material in its exacting nature is equally important.For example – just saying "White Laminate" is practically crazy.  There are about 20 different laminate suppliers with about 20 variations of white for each.  So you can imagine the disappointment when you deliver a Formica "F79409 – Soft White" product, yet the client wanted to match their white Appliances – in which a "Nevermar S7024 Chalk White" – would have been preferential.Then there is items like identifying handle and hinge and accessory information and placement, wood species and veneer cuts, grain direction, counter top material and finishes and their placement.
Specification & Code compliance: Identifying on the Drafting document specifications such as items that require Fire Rating, Building Code compliances, Trade Association requirements ( AWI / AWMAC ), LEEDS Compliance,  Engineering detail requirements are all critical.
Examples in this case are often Architects will design floating millwork or counters that seem to hang off a wall. In this case the Drafting engineer needs to show where the GC must apply proper support blocking and what type of hanging system needs to be employed
In the same sense local code items need to be addressed.  This is where a company like Zdraft.com excels.  As opposed to having an army of drafters in some obscure location in India or Bulgaria, their North American drafting Studios understand local needs such as seismic requirements in Los Angeles California (high Earthquake potential) are different than those in Kansas City Missouri, or  Saskatoon City in Saskatchewan, Canada.  In the same context they spec local hardware suppliers and manufacturers as oppose to specifying items that are hard to get from suppliers that may be local or regional – IN A DIFFERENT PART of the USA from where the Millwork fabricator might be.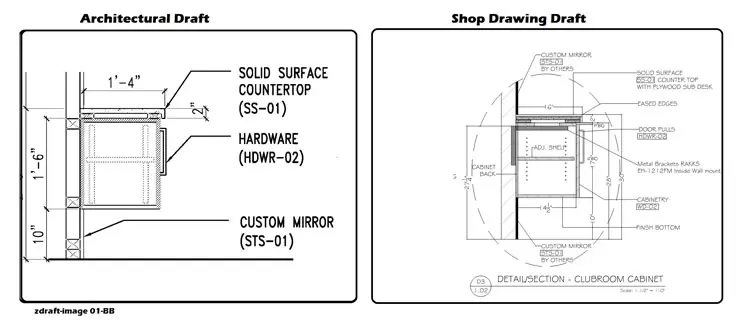 ( Image 01-BB) Image above highlights the differences between a simple wall hanging unit as drawn by an Architect / Designer , vs a Shop Drawing submission.  Note the detail in dimension, specification of hanging brackets , and construction style.
C. Ergonomic verification
Functionality: Many Architects do an excellent job of identifying their clients needs. Most residential projects reflect this well.  On a Commercial level – this is where the shop drawings really come in handy.  The drawings need to reflect the clients needs BUT also the fabricators experience with similar projects.  POS Station, bar tops, benches, table, work surfaces – these all have very narrow margins of acceptance for suitable height requirements. A good Drafter can pick up any errors in the height assignments quickly thus reflecting this on their drawings saving headaches when the final product is delivered – but the counter is too high to work on, or a table is too low to utilize a standard chair.
Bars and bar-backs need this added level in ensuring the fabrication is detailed correctly.  There are many times a Designer may neglect to account for bottle heights in the real world and the shop drawings rectify this error. Apparently there is a lot of heartache when a bar is manufactured , but you can't stand a bottle on the back display area because the shelving is too close together.
D. Trade Co-ordination
This area plays a most critical role in the Commercial building sector.
General Contractors and Construction Supervisors utilize these co-ordination drawings to schedule trades and unify the project.  Zdraft.com gave us some excellent examples of where within the millwork sector this becomes critical.
Identifying where wall blocking is critical so that when the hanging of the wall units occurs – it does so with proper structural requirements in place.
Floor installers are often instructed to "not place tiles , flooring , under millwork as a cost saving measure.
Steel and Glazing trades often depend on millwork shop drawings to generate their own (shop drawings).
Stone and Solid surface coordination
Electrical and data integration within items like reception and security desks, bar walls, and retail display mill-work
If the millwork shop drawings don't show access and chase integration – then many of these projects end up in arguments and finger pointing. While this is an area where the average end-user can't be obliged to input via approve or review, this is a point where the Trade and GC qualifications come into play and dependent on the project outcome.
E. A Manufacturing Tool (AKA – STOP THE PARADES !)
Everyone in business, specifically in manufacturing knows that if you give two master craftsmen a set of plans, with general information – they will most likely build the product – but with varying differences, some so small an untrained eye may not notice.
When the shop drawings though are clear, concise and have the information detailed – then all excuses for variance discriminate.   Companies and manufacturers and their shop Foremen and Administrators need these documents to perform their work effectively.  When margins are brought in tight in a competitive market, it seems like the effort in producing these drawings outweighs the variances and problems that are created without them.
Again a strong statement from Gus highlights this issue:
"When I was an Apprentice in a shop, I used to see a  literal parade of bench guys, shop guys, and installers going in and out of the office with drawings in hand and bombarding the Project Manager and Owner with questions. I always used to wonder why my Boss used to allow this from the PM's? The time wasted in these "Parades" was astounding when I calculated it one day.  I knew right then that the only way to make these trips stop was to ensure that the drawings were accurate.  With the availability of information on the internet, advancements in CAD programs, and a matured thought and manufacturing process – I'm certain these Parades have either been reduced or stopped.in today's environment"
F. After Project End – Record Keeping
It's a common requirement by many Architects and General Contractors to have the trades re-submit "AS-BUILT" drawings when a project has concluded. This being a critical aspect of the process that sometimes goes unnoticed.  These drawings serve as a record of the changes and variances in the way that a final project was built.  The need and use for these drawings justifies a multitude of reasons, including assisting in after project maintenance and alterations, ease of re-ordering – manufacturing of components via a warrantee or damaged condition, and general quick reference for material detail or product use.  Again, this is a legally binding document where care needs to be asserted in ensuring product and information is identified correctly so it does not cause turbulence in the future.
So with all this in mind, does it change your perception of what these shop drawings actually do and where their value lays ?  It seems that in this complex and ever-changing world, the construction business is no slouch when it comes to relaying of information. Specifically, the new generation of companies that are sprouting up and more-so the old-generation companies that are leading the way, are learning that information is the key to moving forward in a seamless and "conflict free" environment.
Identify for your client the product in as much detail as possible and you rid yourself of headaches and heartaches.  Have them look over the drawings and if the case is they are residential clients working without a professional – then make sure you spend time with them to go over exactly everything they are ordering from you.  Architects and Contractors don't have this excuse available to them. They should know exactly what they are agreeing to and saying – "I didn't understand" is not an option.
In terms of the production of these drawings, many fabricators have in-house people.  Obviously by Zdraft.com's success, many companies are outsourcing the work also. In both of these scenarios the end result should be drawings that you can stand by and alleviate misunderstandings, may it be with the Architect, the Designer, the end-user client, the General Contractor and even within your own organization .