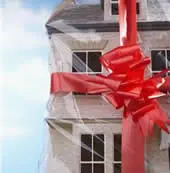 The main reasons people buy versus renting a home is:
Financial Benefits – The down payment, Loan Amortization, and Appreciation equity will all be in a safe place for retirement or re-investment + Tax Deductions (Loan Interest and Property taxes are tax deductible)
Ownership is the highest level of interest in property. It allows you to lease the property, Modify it, build a New structure on the property, etc
Housing Stability (control your own destiny) – This is especially important for Families!
Privacy (escape apartment living)
Pride of ownership experience
Let's take a closer look at the Financial aspects of Buying vs Renting:: Let's say you live in a 3Br/2Ba Bay Area home and pay $3,000/month in rent What if you buy that same house (that you're leasing) for $750,000 with 20% down?
 Your 1st Loan would be $600,000 (At current 3.5% Interest Rate, your payments would be $2,694/month + Property Tax Payments of $781/month + Insurance ($75/month) = Total Monthly Payments of $3,550
~$37,000/year of these home payments will be tax deductible
State Income Taxes are 10.3%.  If you're in the 28% Federal Income Tax Bracket, that $37,000 Tax Deduction equates to $14,171/year or $1,181/month that you get back.  Simultaneously, $400/month of your payments goes to reducing your loan principal (equity back in your pocket).
That is close to $1,600 back in your pocket with this scenario from property payments of $3,550/month.  The resulting $1,950/month figure is much lower than the $3,000/month you would be paying to Rent that same house
If Stability, Privacy, and Pride of Ownership isn't enough, you should be motivated by record low interest rates and rising Rental prices which make buying versus renting a home a sound financial decision in most cases.