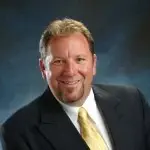 Randall Byrd realtor is being charged with four misdemeanor counts for stealing from a home he was listing.
He is accused of stealing doorknobs, plates for doors, and locks for doors. Bryd, once a broker for Keller Williams Realty Office in Redding now closed,  works for Platinum Properties currently. Court documents state charges against him are mortgage stripping, grand theft, attempted mortgage stripping, and attempted grand theft. The accusations come when Byrd asked Jeterbilt Construction to remove carpet from either his or his girlfriend's rentals and replace it with a bank owned listing.
This isn't the first time. Byrd has a second charge from last March when Byrd is accused of removing door hardware from another foreclosed property.
The Shasta Association of Realtors said Byrd is being questioned because of self policing among members. Byrd is set to be arraigned March 12.