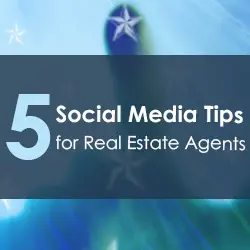 Social sites have evolved beyond simply collections of photos and interests to become an integral part of many consumers' daily lives. In April of 2014, Facebook surpassed one billion monthly mobile users. Consider the sheer scale of a billion users. That's one in seven people on the planet that are using Facebook. Other social networking sites have hundreds of millions of users.
Facebook and other sites are now communication platforms, used by many to chat and engage directly with both friends and brands. Businesses that want to maximize their profits must develop social media strategies that encourage action. This need for a social presence is certainly a requirement for real estate agents, a group of people that relies on word-of-mouth and professional presentation skills.
Here are five best practices agents should embrace in order to provide their buyers and sellers with pertinent information and to boost sales numbers:
1. Build a multi-channel social media presence.
Agents should embrace the sharing and social world and develop several social media sites including Facebook, Twitter, Google+, Instagram, even Pinterest. LinkedIn should also be used to establish the agent as an expert amongst their peers. Taking the time to manage these sites is worth the effort because they can bring in a substantial number of clients. Agents should also do some lead tracking to spot if certain social media platforms bring in the most completed sales.
 2. Offer tangible value.
Encouraging prospects to "Like" or "Follow" you isn't enough. You need to tell buyers and sellers the value that will come from their action. Describe what services you offer and detail your expertise so social media users will be more engaged and likely to take action. When a new person starts following you, make sure communicate with them directly through the social site.
 3. Use images to drive interest.
Agents have known for a while that good images can sell a property. A buyer gets a note from an agent about a new opening, and quickly glances at their phone or tablet to see some images. If those images aren't readily available and they don't sparkle, then the buyer will lose interest quickly. Agents should utilize Instagram to show off new properties visually to a broader social circle. Their website needs to feature dozens of pictures for each listing. Taking and posting pictures takes time, but it's invaluable for 21st century buyers and sellers. Want to stand out even more? Post videos which are a great way to show a property's scale and overall appeal.
 4. Encourage buyers to use social media for learning.
Homebuyers often ask their agent for advice about certain neighborhoods, local schools, recreation opportunities, and other aspects of a locality. While agents can offer advice, their main goal is to sell homes, and it's likely they don't live in the exact neighborhood in question. Agents should encourage buyers to reach out to their social media circles to find more information. Many people can quickly find "friends of friends" through Facebook that live in the city in question. These new contacts can provide valuable insights to the buyer, which aids the agent by helping narrow down home searches.
 5. Offer insight and guidance, not just sales.
Some agents use Twitter and Facebook as billboards, where they bombard followers with notices such as "28 Pine Lane price reduction – buy it now!" While most aren't quite that overt, there are many posts that might be too pushy. Agents should find the right balance between keeping followers informed about properties and providing them with valuable information. Agents that know a local area well should share on social sites the best local place to get coffee, where to take the kids to ride bikes, and the best local flower shop. The aim is to establish the agent as an expert local source, one that can be trusted to know market trends and someone who has a knack for finding that perfect home.
Navigating social media can be challenging, but it does offer real estate professionals a significant opportunity. Agents that can build consistent, interesting, and informative social media strategies will be able to reach massive audiences and see increases in both sales and new listings.