Los Altos is one of the strongest real estate markets in Silicon Valley. It's one of the most popular destination towns for both local and relocation clients, offering large lots, a rural feel, and one of the best school districts in the state.  Los Altos is one of the most expensive markets in the country and difficult to get into at any price point.  Buyers shopping in the Spring of 2011 were faced with multiple-offer situations, homes selling well over asking price, and a limited selection of inventory in all but the most expensive price ranges.  There were sales of single-family homes under $1 million for a few heavily discounted properties in bad locations to homes sold at $4 million or more.  There were many new or newer homes sold this year and those helped raise the bar across the board.
Here is a summary of market, by the numbers:
Average Selling Price:  $1,769,436 (up 4.8%)
New Listings:  386 (down 12.3% from 440 in 2010)
Homes Sold:  309 (down 7.5% from 334 in 2010)
Average Days on Market:  40 (down 12.3% from 53 in 2010)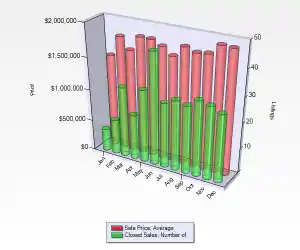 Commentary: The most important statistic is that the average sales price for new, single-family homes was up 4.8% for the year. Honestly, if not for several homes that are more like townhouses sold in the $900K-1.1M range, I think that figure would be a lot higher.  That figure is going to continue to increase in 2012 as sales in December were very strong and the year ended with substantially depleted inventory.  Buyers in Q4 had almost as hard a time finding homes as those in the Spring.  The Los Altos market was up 1.9% in 2010 and with the current shortage of inventory, 2012 is likely to be the third year of increases.
The biggest factor driving Los Altos home prices is inventory, specifically a lack of it.  There are not enough homes to meet buyer demand and that was exacerbated last year.  New listings were down over 12%, even with a slight reduction in homes sold, that's still a nearly 5% gap in demand.  When you look at how many homes had sales prices over the asking price, it's roughly the same number.
The number of days on the market tells the demand story. The days on market statistic is down to 40 which is among the lowest of any town in the area.  Given that most homes go on the market by Thursday, have tour on Friday, open house on the weekend, and offers the following Tuesday, the average home is actually selling in 5 days with 35 days for financing.  What's interesting about that is more and more homes are selling for cash.  That's getting more closings down to 21 days or less, which is bring this number even lower.  Buyers in 2012 can expect this trend to continue.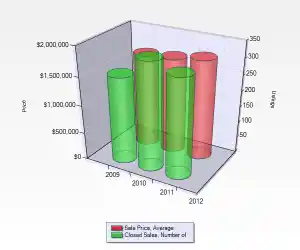 This report does not include a price per square foot figure, because it is a much more detailed number than just the generic figure for all homes sold.  I break down the sales by size and age of home which gives an accurate view of that  calculation.  That analysis will appear in a separate article.  If you want the details before that is published, call me.  I think that statistic has some value in negotiating during the following year but only as a guideline.
Author
Bryan Robertson, Broker Associate
ePro, Realtor, Developer
Sereno Group Real Estate