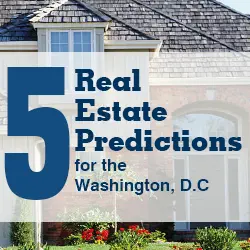 Rina Battiata Kunk, a licensed REALTOR at McEnearney Associates, has made the following projections in housing for the new year:
 Rising interest rates: Interest rates will slowly rise through 2015 reaching 5 percent during the 4th quarter of 2015.
Slight increase in listing prices: Listing Prices in popular "close-in" neighborhoods will see only a slight increase by the end of the 2015 spring market (1-2 percent increase). Outer county markets will see a softening of list prices with a decline in sales prices. During 2013 and 2014, price formulas dramatically increased from levels that had been constant since 2004.  These new pricing standards are now the norm, but properties have to be in "move-in showing condition" in order to be successful in these new "pricing formulations".
Lower Days on Market: Popular walk-able neighborhoods will continue to see low DOMM (days on market, multiple list), but not with the same intensity as was seen in 2013 and 2014. Buyers will take longer to make buying decisions and will make home inspections and financing contingencies a standard part of their contracts once again. Fewer buyers will do pre-contract home inspections.  Multiple offers will continue but there will be fewer multiples completing for one property.
Increased inventory: Inventory will increase through 2015 providing for a robust spring market, resulting in more contracts written. This will create a balanced 2015 real estate market, allowing more properties for buyers to choose from, and putting buyers and sellers on even footing for negotiations of contracts.
Move-In Ready: Buyers will continue to expect "for sale" properties to be "move in ready" and show like "Pottery Barn" catalogues. Houses that are not totally prepared will linger on the market significantly longer than their "dressed for success" competition and sell for less than the competition.