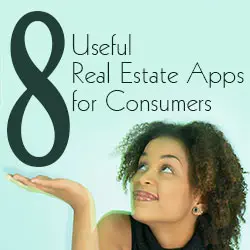 Change comes slowly to the real estate industry. It's a protected and entrenched industry that doesn't always embrace change and has established barriers to entry, which sometimes makes it difficult for new ideas and solutions.
Despite the challenges, the rise of mobile users and the sophistication of applications are knocking down the barriers and providing buyers, sellers, and agents with new tools that help them to buy, sell, and design homes. These solutions are changing real estate to be more efficient and engaging, which makes sense given real estate is likely the biggest purchase someone will ever make. Let's dive into some of the more innovative apps and software platforms.
RentalRoost is a rental search firm that is using Big Data to aid in the search process. This is a significant trend within real estate, the taking of mounds of data and then finding the best way to deliver results from that data in a meaningful way. RentalRoost helps people to determine "how" they want to live, not just "where" by providing personalized rental recommendations. It compares data to user preferences about an area's walkability, nearby school ratings, and other metrics. Smart Big Data usage is good for real estate because it opens people to the possibility of living in less known areas that offer good amenities and value.
Trulia is a popular site and app that provides users with hi-res photos and neighborhood maps so they can easily see the surrounding attractions. It also includes a sophisticated calculator that helps people see the benefits of renting vs. buying in a particular area.
Zillow is similar to Trulia as it provides detailed data about houses, including an estimate of current value, and graphs showing the value trends over time. Zillow is also a quality resource for "For Sale by Owner" individuals who are bypassing the MLS. It also provides data on recently sold homes, so agents and owners can best assess the current market sentiments and pricing.
Creating floor plans of the interior of a home used to be a costly process conducted by architects. MagicPlan is a new app that allows anyone to create accurate floor plans simply by taking pictures of a room. The app analyzes those pictures and creates a room floor plan in seconds. Users can simply drag and drop to pull each room together to complete a whole-house plan. Floor plans allow potential buyers to better gauge a home's size, and gives realtors a great selling tool to complement photos.
Another service for the design-minded is Houzz, a site and app that gives users access to millions of photos and design ideas for their home. It connects decorators, homeowners, design firms and builders together so homes can be designed from start to finish. It allows homeowners to present their visions directly to builders and designers, helping to save time and frustration on both ends of the equation.
On the business side of real estate is DocUSign, a leading electronic signature platform that operates seamlessly on desktop and mobile environments. It is quickly becoming a standard for document signing, eliminating the need for agents and buyers to meet in person to conduct simple transactions. It can also be used by brokerages for internal documentation. Documents signed through DocUSign are stored in secure cloud environments so they are always accessible, an important point for any legal disputes.
Another service for brokers is Reesio, a CRM, workflow and document management solution. It enables people to easily create a coordinated brokerage, linking together multiple agents' transactions and activities. It allows managers to audit everything their agents are doing, so they can ensure documents meet compliance standards, review tasks, and check transactions to be sure nothing was missed.
Redfin is a national search portal that aggregates data across the country. It's especially useful for individuals who are considering a move to several different locales as it provides them with one source of information and detailed pricing. Redfin is an updated version of Realtor.com, a platform that certainly isn't new and does not offer bold design, but must be mentioned due to its massive reach and inventory.
What's next for real estate apps and platforms? There will likely be consolidation among some of the smaller services, with partnerships arising where the capabilities of multiple offerings makes sense. Information and transactions will be stored, managed, and accessed through the cloud, so services will continue to offer instant access. People will also increasingly rely on mobile communications